One morning a Target Gadgets Engineer (that's a real job) was having a hard time waking up. She took her coffee upstairs to grab a shower and realized she had no place to put the mug. If she set it on the side of the tub it might slide off and break, which would be a disaster for many reasons (not the least of which would be the loss of a perfectly good cup of coffee). If she set it on the built-in soap ledge her coffee would get diluted from the running water.
The Target Gadgets Engineer was suddenly struck with a brilliant idea. If only she could design a place to hold both her shower essentials AND her coffee. She quickly finished up her shower and ran to the drawing board.
And the Shower Coffee Caddy was born.
When she took it to her supervisor at Target he laughed and said that no one would ever want to drink coffee in the shower (he obviously did not have children). However, he saw the beauty in her simple design and produced it as a simple shower caddy.
But, as any mom can clearly see, this was designed to hold my coffee. Genius.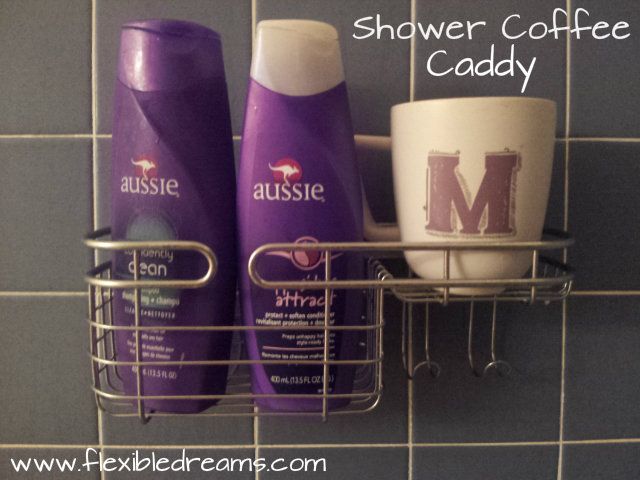 Target did not pay me to write this post. In fact, I don't know if Target even sells this anymore as I can't find it on their website, but
Amazon does
(and they didn't pay me either). No coffee was diluted in the creation of this blog post. No cell phones were destroyed by taking pictures in the shower... although that was a close one.
UPDATE: I know that space is really for the soap. Thanks for the private emails and comments to let me know. I'll work on some less subtle humor for my next post!